DÁIL EIREANN AT THE MANSION HOUSE
DÁIL EIREANN AT THE MANSION HOUSE
Today, 96 years ago in the Round Room of the Conference and Events Venue at The Mansion house, held the first Dail Eireann. Today, we are your city centre venue welcoming king and queens since 1821. Also, the Mansion House is celebrating its 300th anniversary this month. The Dublin City Council (formerly known as the Dublin City Assembly) purchased Joshua Dawson's house in 1715 which became known as the Lord Mayor's Residence in the same year.
In olden times the Oak Room was used as a reception room, and in 1715 Joshua Dawson sold the building to Dublin Corporation, which was to become the lord mayor's residence.The Oak Room Meeting Room Dublin contains the coats of arms of all former Dublin lord mayors since Daniel O'Connell including a portrait of Charles Stewart Parnell. History tells us that the style of the house was thought to be old-fashioned and the Round Room was built in 1821 to coincide with the arrival of King George IV. The supper room, known as Fire Restaurant Dublin was subsequently built in 1867.
The Round Room which held its first Dáil in January 1919 is now the Conference and Events Centre in Dublin, one of the best conference venues in Dublin. Making history for Home Rule, the 70 of the Irish representatives did not attend West Minister in London however they pledged to the first Irish parliamentary meeting ever held in Ireland.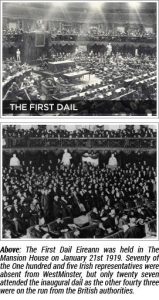 Today, the Round Room is an incredibly versatile venue and the private hire event venue of choice in Ireland. Located in the heart of Dublin City, between Trinity College and St Stephens Green, it is the only city centre conference venue Dublin has that can hold over 500 guests. If you are in search of a meetings venue, if you are planning a fashion show in our unique venue, or if you are looking for a venue that can hold the best gala dinner Dublin has to offer, the Conference and Events Venue at the Mansion House is the ideal choice for venues in Dublin.