How to Promote your Brand at your Next Event
Learn how to create an event brand that will impress sponsors, attendees and partners.
At the Round Room, we work with well-established companies on a day to day basis, where promoting their branding throughout their event is a must!
With every event, we provide a highly skilled Event Manager who can assist with branding your event. See below options to brand our beautiful venue from the outside in.
Outside the venue
A GOBO is a stencil which is placed into a light and then reflected on to a surface. This can be your company logo or event name.
Flags are a good way for your guests to locate the event venue. The Round Room is based between the Mansion House & FIRE Restaurant, which often leads to confusion with delegates. Flags are also re-usable for future events, just make sure you do not include the year on them!
A POI performance is a fun & energetic way to promote your evening event.
A red carpet is a glamourous way to begin an evening, however, why not change it up and incorporate your own logo colour.
A branded archway is a great statement piece. Keep it simple with just your event colour & logo or jazz it up with some dramatic lighting.
Balloons are a simple, fun & cost-effective way to promote your brand colours.
Create a hashtag to get the event trending across your social media channels. Why wait till your guests are seated to start promoting the event when it can be done from the moment your guests set foot on the red carpet? Perhaps run a competition for the best red carpet selfie.
Registration Area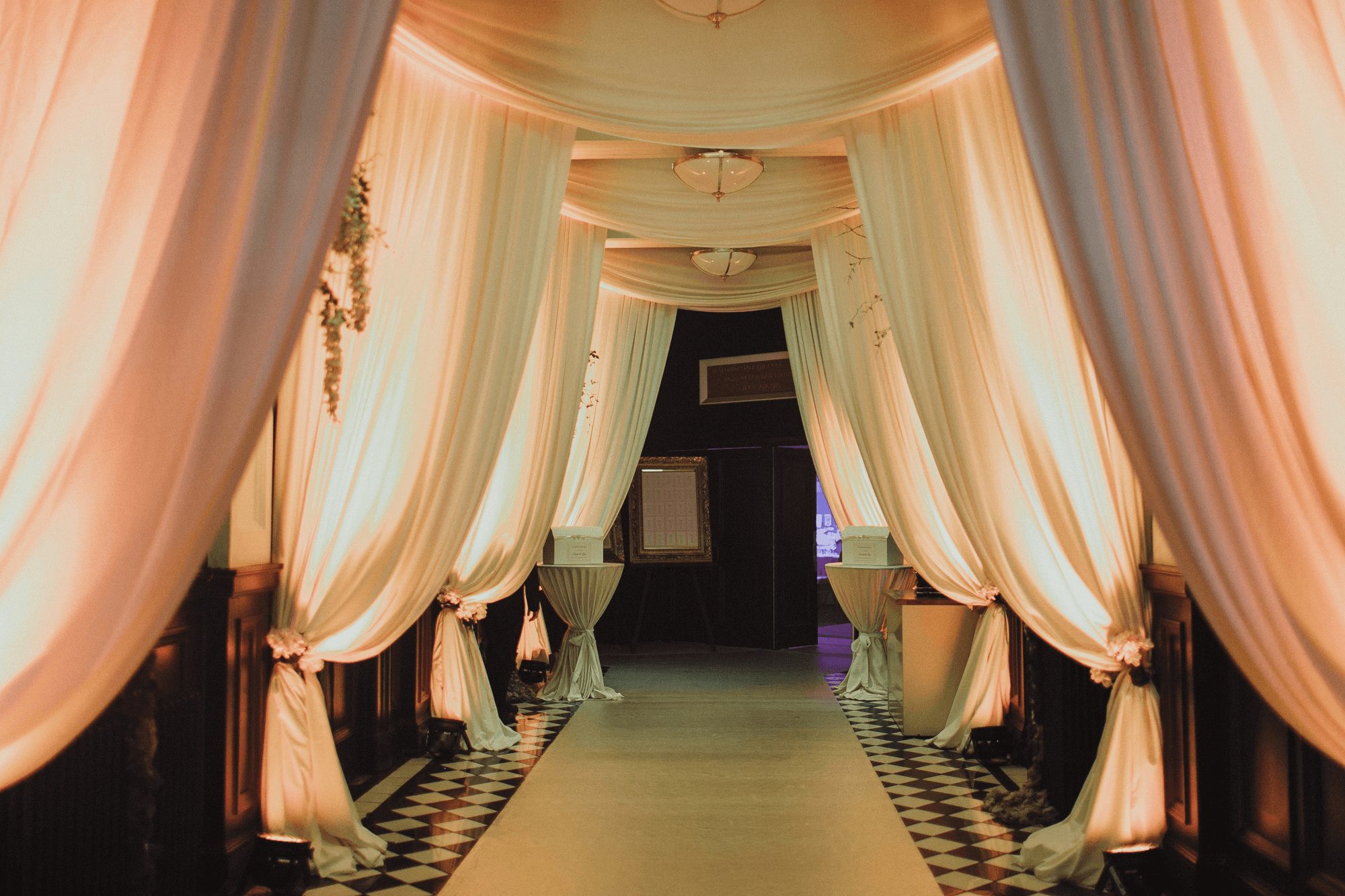 A media board is a branded backdrop for photo opportunities. This is a great way to show off event sponsors logos and ensure they are included in social media imagery.
At the Round Room, we have a custom-made registration desk, which allows branding easily slide into the front of it.
Lanyards or badges are a subtle way to brand at a networking event.
A Totem screen can allow you to schedule content based on your event timings e.g. a welcoming message with your event name for guest arrival and an exit message with sponsors logos for guest's departure.
Set the right tone, by creating an impact from when you guests walk into the venue. Dress the hallway with your corporate colours through up-lighters or entrance draping.
Inside the venue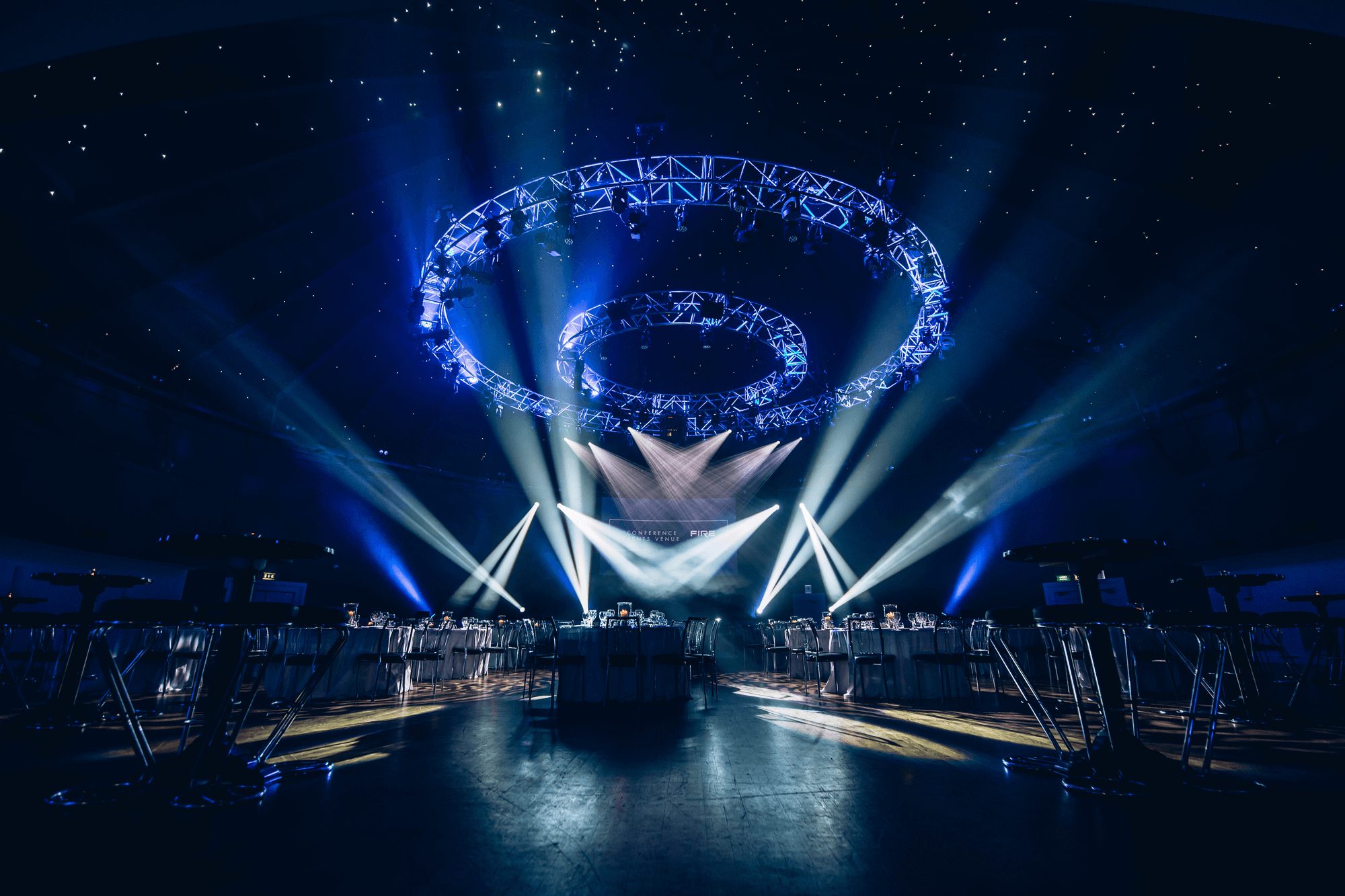 There are six moving lights inside the Round Room, which allow for GOBO projection. This means that your logo can be displayed anywhere around the room or as a moving feature through the room. As there are six lights, six GOBOs can be displayed at a time. To find out more about this lighting, see here.
We have 8 hanging points for our balcony posters. These posters are hit with shuttered lighting, making them pop and look as if they are LED screens. We recommend bright backdrops for these, in order to make them stand out.
Table pin spotting is our most popular lighting upgrade for dinner. Using a mix of our coloured room wash & table pin spotlighting, we can dress the room in your corporate colours. We can also change the colour throughout the event to create an atmospheric mood.
LED letters are a popular & fun way to get your event trending throughout social media and also acts as a great photo opportunity for delegates.
Hanging banners are effective as guests are naturally drawn to the front of the room. The image below shows how they can also be used to frame the screen and incorporate the entire staging area.
Branding the lectern is a popular branding opportunity as guests focus is on the event speaker. This is also recommended when the event is being photographed or recorded as your logo will appear in most material.
A 20ft by 11ft curved screen is included in the hire of the Round Room. A holding slide or loop of sponsors logos is a cost-effective way to brand.
The venue also benefits from a tall ceiling with multiple rigging points, allowing you to easily brand or dress the space.
Why not try branding features around the room e.g the bar, a food station, a pillar etc
At the table, there are plenty of subtle ways of including your branding e.g. on the menu, the table stand, name tags. You can even incorporate your event brand colours into a cocktail or colour of linen on the table, you just need to have some imagination!
Contact our Team Today
At the Round Room we offer marketing support to all our clients via our social media platforms, so if there is any way we can help with your next event with us, please contact us.