Stefan Pantea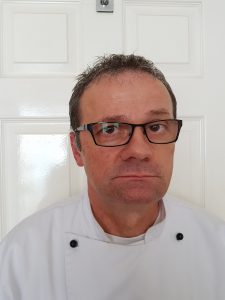 Stefan joined the team at With Taste in 2010, at that time he was working as a Chef de Partie in Balzac Restaurant (La Stampa). When the opportunity came to work with With Taste this was the start for Stefan, it brought about new experiences, broadened his knowledge in high-end menus and gave him more responsibilities.
It's feels like I grew up in With Taste and when I move on to a new team in Manson House that was a great and welcome challenge for me.
I believe that the opportunity to work for a team such as With Taste provided me with invaluable experience. I love the versatility of it; every day is completely different, you get the opportunity to work with chefs from many cultures and countries which is very exciting.
For the past 9 years, I have worked in With Taste and I have continuously moved up through the kitchen brigade to my current Sous Chef position.
---
 SO LET'S GET TO KNOW HIM…
How long have you been working in the hospitality industry?
I started 19 years ago in the hospitality industry in Ireland.
What does a typical day look like for you?
I usually start my work at 7:00 am, collaboratively plan my day and make sure that the most urgent work gets done first and I try to stick as much I can of my check-list during the day.
What do you find most rewarding about your role?
I feel happy and satisfied when the event has been executed successfully, and we receive compliments from the Client.
What's your earliest food memory?
My childhood, when my father used to cook chicken stroganoff for my sister and I, with freshly picked forest mushrooms and very creamy sauce.
What is your pet peeve in the kitchen?
When a person cannot effectively work within a group.
What's your guilty pleasure?
Ice cream, I sample too many flavours at work.
Who is your dream dinner party guest?
Heston Blumenthal – I like his scientific approach and his explanations.
Let us in on your top foodie tip.
Always start with good quality ingredients and to execute the correct cooking procedures.
---
If you would like to find out more about catering at The Conference and Events Venue visit here.
Or contact a member of the team on:
T: +353 (0)1 253 0840