Meet Pierce Flynn, Lead Chef at The Conference and Events Venue
Pierce Flynn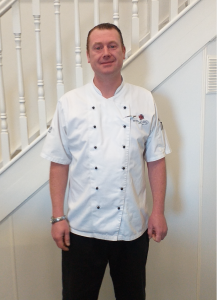 Pierce has been working as a Chef for the last 20 plus years, in many different roles and countries. One of which was in France where Pierce ran his own restaurant, Auberge du Chateau de Paquier. In 2017 Pierce started working at With Taste, where his first event was as a Chef working on the Grandstand at the Royal Dublin Society Dublin Horseshow.
Pierce finds working in the corporate event industry is very different from working in a Restaurant as no two days are the same. We move from kitchen to kitchen around venues all over Dublin and beyond.
Pierces main principles for providing such high-quality food is to have access to the best seasonable products & produce.
Pierce is the Lead Chef for the Round Room at the Mansion House where we can cater for up to 550 people for seated lunches & dinners. He believes it's a challenging but very rewarding role and to work in this iconic building with a very experienced & dedicated team of colleagues makes it a pleasant environment to be in.
---
 SO LET'S GET TO KNOW HIM…
How long have you been working in the hospitality industry?
I started in the hospitality industry 22 years ago and worked my way up the kitchen brigade.
What does a typical day look like for you?
Prep days normally start at 7:00 am in our culinary centre where we have specific lists to pack for each event. On event days we split the kitchen team for everyone to get a suitable job for their skill set.
What do you find most rewarding about your role?
Customer feedback is the most rewarding for me.
What's your earliest food memory?
My mother making soda bread in the kitchen at home.
What is your pet peeve in the kitchen?
Not cleaning as you work!
Which kitchen tool could you not live without?
Knives, I know it sounds basic but they are one of the cornerstones for what the chef has to deliver on quality.
What is your current ingredient obsession
Cumin, Ginger, Chilli– I love the aromatic smell and taste.
What's your guilty pleasure?
 Indian food – A good Indian after a tough day to unwind.
Who is your dream dinner party guest?
David Attenborough – A very interesting and well-travelled man.
Let us in on your top foodie tip. 
Less is more, not to over-complicate a dish.
---
IF YOU WOULD LIKE TO FIND OUT MORE ABOUT CATERING AT THE CONFERENCE AND EVENTS VENUE VISIT HERE.
Or contact a member of the team on:
T: +353 (0)1 253 0840