CELEBRATING 10 YEARS IN EVENT EXCELLENCE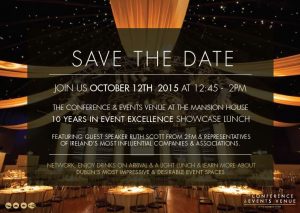 This October our Conference Venue in Dublin is Celebrating 10 years in Event Excellence. Home to the first sitting of the Dail Eireann in 1919; the Round Room has been at the heart of some of the country's most prestigious events since 1821, playing host to countless esteemed guests from across the globe over the years.
Under current management since 2005 the venue has seen continual investments and developments firmly cementing its position as one of Ireland's most sought after settings. When it comes to venues in Dublin, the Round Room, with its unique circular shape and star filled domed ceiling prides itself as the ideal choice for the ultimate bespoke event experience.
In recent times, The Conference and Events Venue has seen the addition of new event spaces in the form of our Glassroom suites and Private terrace overlooking the Lord Mayors Garden.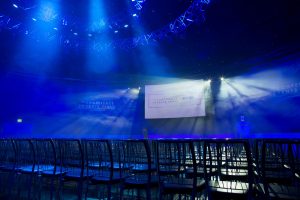 An tArdmhéara Críona Ní Dhálaigh, Lord Mayor of Dublin
"I would like to wish Conference & Events Venue at the Mansion House a very happy 10th birthday.  Over the last 10 years Lord Mayors of Dublin have celebrated many wonderful occasions in the historic Round Room including three Freedom of the City ceremonies, the annual Lord Mayor's Awards and Christmas Gala Concerts, and the recent Mansion House 300 year anniversary concert.  The staff are a pleasure to work with and the feedback from our guests is very complimentary.  Ag guí gach ráth oraibh."
In 2015, the venue was honoured to receive the Royal Institute of Architects of Ireland Award for Best Commercial project in Ireland.
With the ever increasing demand in the industry for high end production, the venue underwent a transformation of its Audio Visual and Lighting offering in August 2015. Working closely with our inhouse production team we have been able to create a product that puts the venue out there in a league all of its own.
With its unique purpose built 20ft curved screen and customised lighting experience the Round Room has been transformed and brought into 21st century.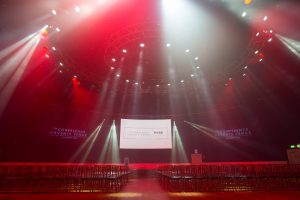 Sharon Hollywood, Director of Operations
"Since joining The Conference and Events Venue at The Mansion House in 2005 we have hosted hundreds of successful bespoke events. We strive to make every event as personable as possible; if we take on an event, we will make sure every detail is covered.
When we first opened 10 years ago, the venue had just one other Event Manager in the team; 10 years on, we now have five full time staff working in the sales and events team. We have seen the venue go from strength to strength over the years owing greatly to a consistent product, but also to teamwork, an understanding of the market and an understanding of what our clients are looking for.  Our experienced team members live and breathe events. They go out of their way to make sure every event exceeds expectations and in doing so have built lasting relationships that see our clients still coming back year after year.I look forward to the next 10 years of being a market leader in this exciting events industry."
Venues in Dublin like this are rare and none have the character or indeed the history to match the Conference and Events Venue at The Mansion House.
We will be celebrating a decade of success on the 12th of October with a networking reception. For more details on this event please contact jan@mansionhouse.ie or 01 6344628.