Winners of 'Best Event Design' at the Event Industry Awards 2017

We're delighted to announce The Conference and Events Venue was awarded 'Best Event Design' at the Event Industry Awards 2017!
Launched in 2009, the Event Industry Awards are the premier event in Ireland which celebrates excellence and showcases the very highest standards in Ireland's event industry.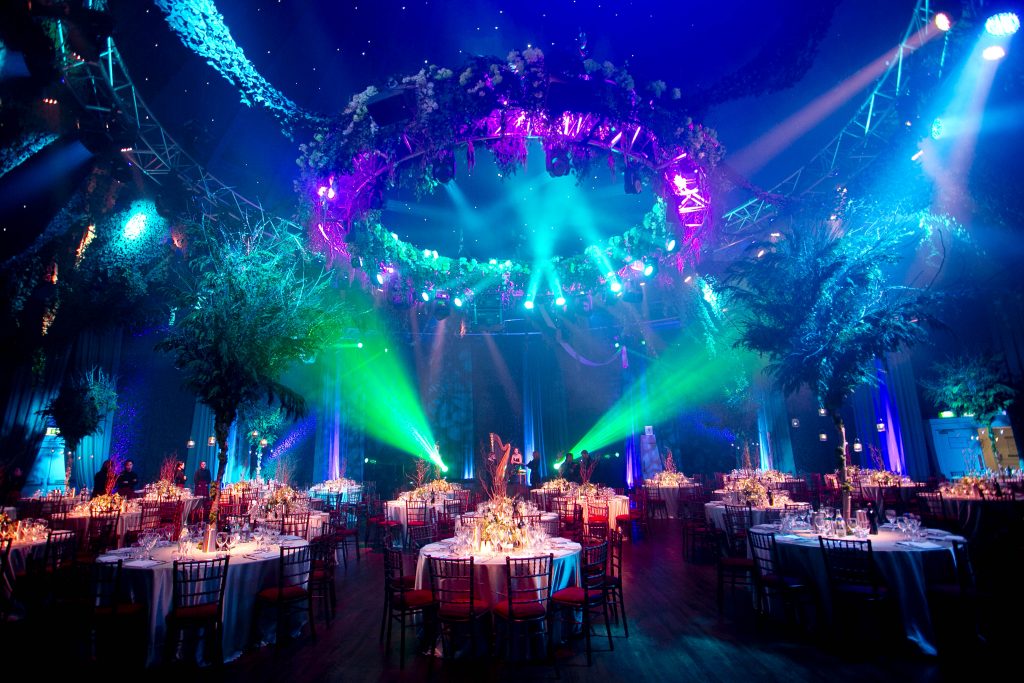 The International Gala Dinner's theme was Irish with a mythical feel. Our team created an 'Enchanted Forest' which encircled the entire venue from the exterior entrance to uniquely designed tables with trees as the centre of the guest's dining tables and as much natural greenery and fresh flowers throughout the venue as possible.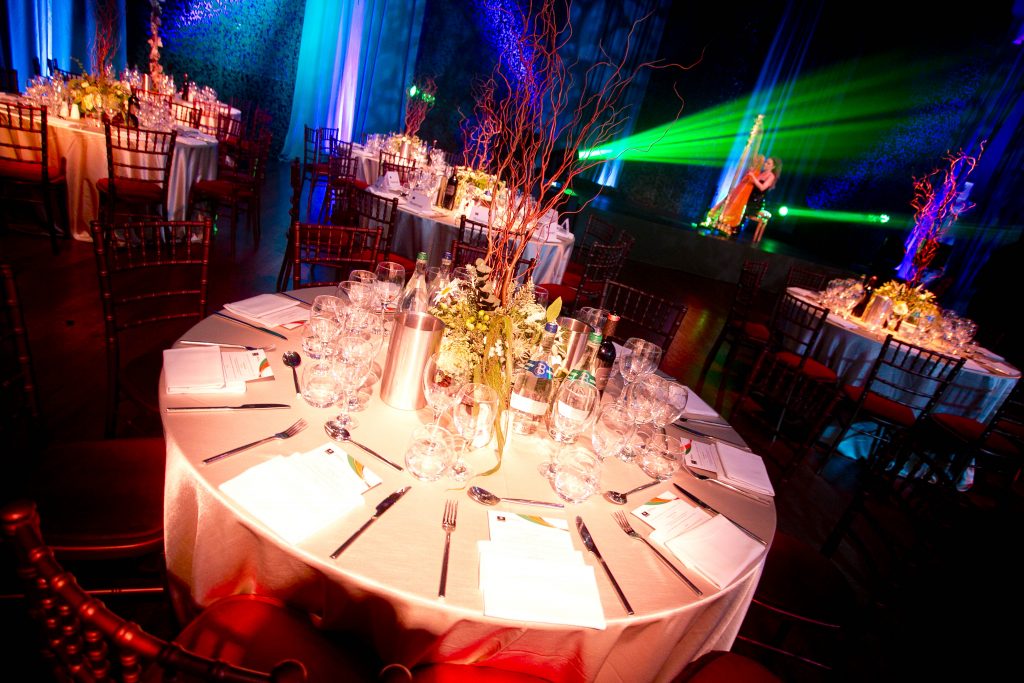 Guests entered through a willow and fairy-light archway which was lit with wooden lanterns. This look was complemented by the use of flame torches and this look was carried through the entrance hallway using several lanterns surrounded by draping and birch contorted willow arches with wisteria to create a hanging effect of walking through a forest.
Our starry dome ceiling set the scene for the evening sky and immediately under this we set about disguising both the inner and outer trusses with fresh trailing Amaranthus hung in red, plum and green. This, mixed with eucalyptus foliage and cherry blossoms, not only created a lush forest look but also infused the room with a fresh forest fragrance.
Camouflage netting was suspended above the guest's heads from the truss to the outer walls with vines of ivy dropping down to make all guests feel that they were immersed in the midst of a forest.  The walls of the room were also completely disguised with similar camouflage netting and green drape to further this effect.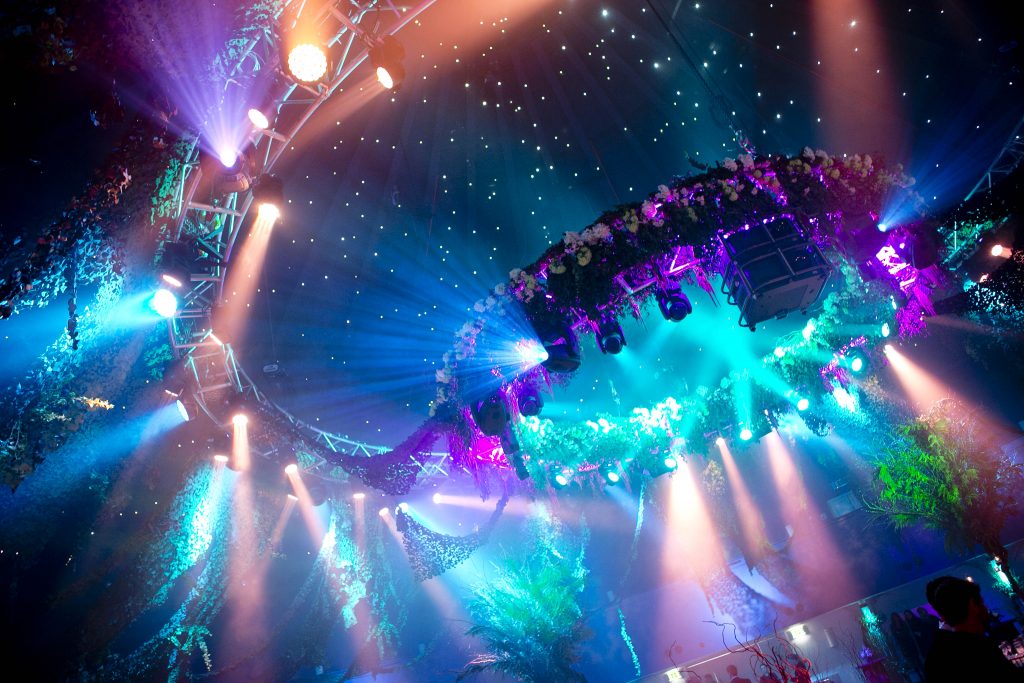 Lighting was a massive component of this event with a leaf-like-effect created by shining lighting through our bespoke camouflage netting. This created the illusion that the forest was alive and not just event dressing.  Leaf-pattern custom made gobos were also designed to project onto the balcony walls to ensure that no elements of the existing blue walls were visible.
The pillars within the room were dressed using willow branches and fairy lights to enhance the look. We then used barks of trees and ivy to cover the structure of the existing bar; which was then dressed with additional ivy, moss and tea lights to ensure it was submerged in the forest theme.
We were delighted to have the opportunity to host and create such a unique and wonderful event at CEV and were honoured to receive such a prestigious award.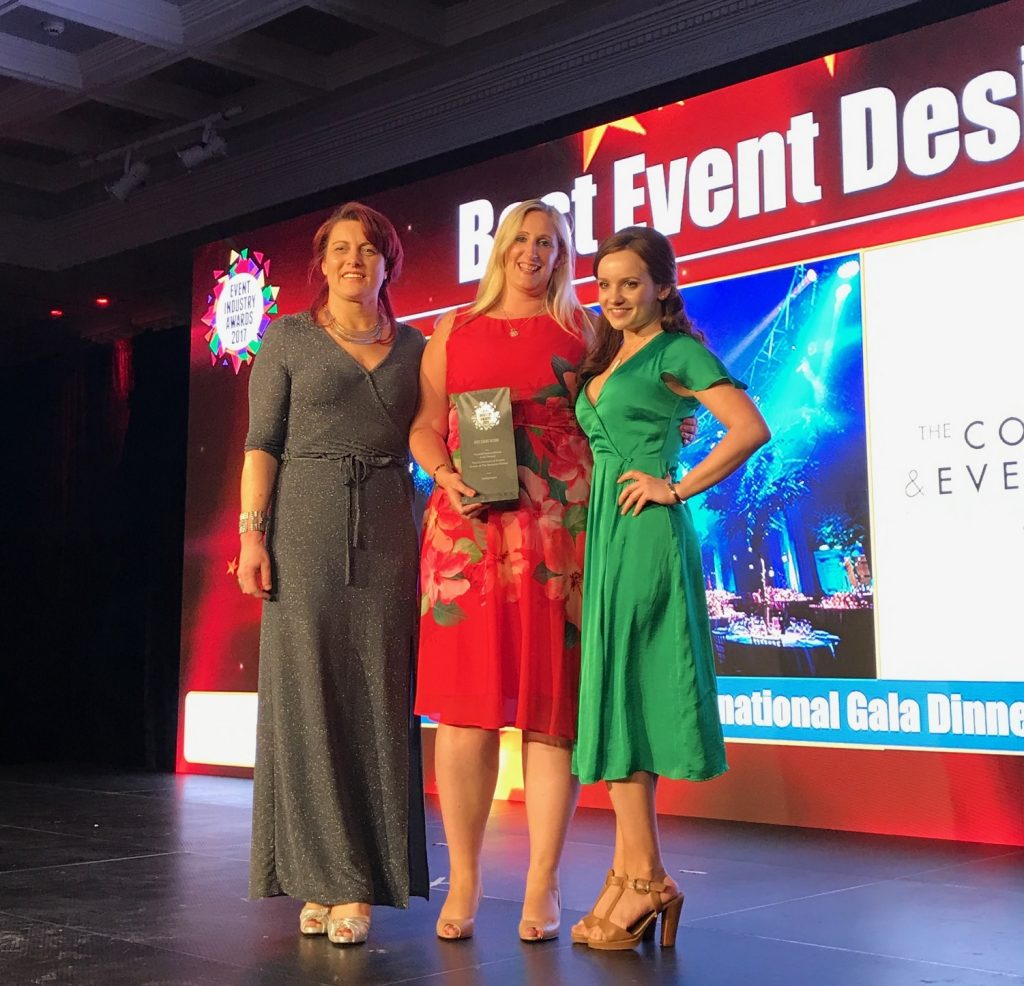 Our Business Development Manager, Jan Leonard, and Event Manager, Dominika Zemberyova, receiving the 'Best Event Design' award at the Event Industry Awards 2017.
For more information on Event Design and possibilities at The Conference and Events Venue, contact our Event Managers:
Or for more information on hosting your event at The Conference and Events Venue, contact our team: